Nigerian Children, At Least 300, Chained, Starved, Sexually Abused In Kaduna House Of Horror
The police in Kaduna State have uncovered a building in Rigasa where
at least 300 people many of whom are children are tortured, chained,
sexually assaulted and starved.
The police added that there were signs that the victims were being
indoctrinated.
The victims, according to the police during a press conference, are
from Burkina Faso, Mali, and other African countries.
Bello Hamza, who had spent three months in chains at the centre, told
journalists, "I got admission to study Applied Mathematics, but here I
am chained. They claim to be teaching us the Quran and Islam but they
do a lot of things here. They subject the younger ones to
homosexuality.
"This is supposed to be an Islamic centre, but trying to run away from
here attracts severe punishment; they tie people and hang them to the
ceiling for that, but engaging in homosexuality attracts no
punishment.
"Within my short stay here, somebody had died as a result of torture.
Others have died before my coming due to poor health and torture. They
give us very poor food and we only eat twice a day; 11 am and 10 pm.
"They have denied me a lot of things here. I am a family man, I have
responsibilities, but I am chained here not knowing what is happening
to my family members."
Ali Janga, the Kaduna police commissioner, said: "We received
information that something is going on in this rehabilitation centre
or Islamic centre. So, I sent my DPO here to check what was going on.
"On getting here, we discovered that this is neither a rehabilitation
centre or Islamic school. You can see it yourself that, small
children, some of whom are brought from neighbouring African countries
like Burkina Faso, Mali and others and from across Nigeria. Most of
them are even chained.
"These people are being used, dehumanized. You can see it yourself.
The man who is operating this home claimed that parents brought their
children here for rehabilitation. But, from the look on things, this
is not a rehabilitation centre. No reasonable parent will bring his
children to this place.
"So, we are going to investigate them and get to the root of the
matter. We will find out the real motive behind this centre, and if
they are found wanting they will be charged to court. But first, we
are evacuating all the people from this place to our station and we
will make an announcement for parents to come and recover their
children."
But the owner of the centre said, "Those chained are the stubborn ones
who attempted to run away. Those who don't attempt running away are
not chained. Some were chained before and after settling down, they
were freed.
"Most of them were brought by their parents from across the country
and others from outside the countries
"All those allegations of torture, dehumanization, and homosexuality
are false. We do nothing here other than teaching people Islam.
"They don't do anything other than, recitation of Qur'an, pray and
worship God," the Malam said.
Putin steps up drive for clout in Africa with broadside against West
MOSCOW (Reuters) – President Vladimir Putin stepped up Russia's push for influence in Africa days before he hosts a summit with African leaders, saying on Monday that Moscow could offer help without strings attached unlike what he cast as the exploitative West.
The Kremlin has said it expects 47 African leaders to converge on the Black Sea city of Sochi for the Oct. 23-24 event, Moscow's first Russia-Africa summit and part of an ambitious push for influence and business in Africa.
For Moscow, the prize is greater political influence on a continent with 54 United Nations member states, sprawling mineral wealth, and potentially lucrative markets for Russian-manufactured weapons.
The world's largest wheat exporter, Russia is also looking to ramp up its supplies of grain and fertiliser to meet demand that is rising in step with Africa's booming population.
U.S. officials have vowed to counter what they see as Moscow's growing political and economic clout in Africa as well as that of China, which has long had a large economic presence there and began its own series of Africa summits in 2006.
In December, then U.S. national security adviser John Bolton accused Moscow of "corrupt" and "predatory" business practices and of selling arms and energy in exchange for votes at the United Nations. Moscow denies that.
On Monday, Putin gave the clearest idea yet of his pitch to African countries, warning of rising competition over Africa. Turning the tables on the West, he accused it of intimidating African countries to exploit the continent's resources.
"We see how an array of Western countries are resorting to pressure, intimidation and blackmail of sovereign African governments," Putin told the TASS news agency.
He did not name specific countries, but said he was referring to former colonial powers on the continent.
ARMS FAIR
"They are using such methods to try to return lost influence and dominance in their former colonies in a new guise and rushing to pump out maximum profits and to exploit the continent," he said.
By contrast, Putin said Russia was ready to offer help without "political or other conditions" and to embrace the principle of African solutions for African problems.
During its Cold War struggle with the capitalist West, Soviet Moscow developed close ties with many African countries, backing for instance post-colonial independence movements. Many of those ties lapsed after the 1991 Soviet breakup.
But Moscow's ties to Africa are now on the up, Putin said, pointing to military technical cooperation accords that Russia has with more than 30 African states which it supplies arms to.
Russia's new role in the region was thrust into the spotlight in July last year when three Russian journalists were killed in the Central African Republic while investigating the alleged presence there of a shady Russian private military contractor known as the Wagner group.
Putin will co-host the summit with Egyptian President Abdel Fattah el-Sisi.
Russia plans to put on an arms fair at the summit, showing Russian-made weapons including its S-400 missile defence system, other air defence systems as well as non-military equipment, according to the Almaz-Antey arms manufacturer.
In trade terms, though, Moscow lags far behind competitors. Russia says its trade with African countries rose to $20 billion last year, but Russia did not rank among the continent's top five largest trade in goods partners, according to Eurostat.
That list was topped by the European Union, followed by China, India, the United States and the United Arab Emirates.
Re-open Border With Benin Republic, Ghana Urges Nigerian Government
Ghana's Minister of Foreign Affairs and Regional Integration, Ms Shirley Botchwey, has urged the Nigerian Government to urgently review its decision to close its borders with Benin.
The minister said the border closure had severely affected Ghanaian traders, noting that it could lead to political tension in countries impacted by the decision.
Botchwey, who stated this during a meeting with the Minister of Foreign Affairs, Geoffrey Onyeama, in Abuja on Wednesday, was accompanied by her counterparts, Minister of Trade, Allan Kyerematen and the Acting High Commissioner to Nigeria, Mrs Iva Denoo.
She stated that truckloads of goods from Ghana had been detained at the Seme Border between Benin and Nigeria for weeks, adding that returning such to the seaports would be a major loss for Ghanaian traders.
She said, "The closure of the borders has had considerable disruptions to trade in the sub-region, with grave consequential economic effects on Ghanaian traders."
Reacting to the call, Onyeama said that the borders were closed to protect Nigeria's economy from smugglers, traffickers and illegal migrants.
Ethiopia's Abiy wins Nobel Peace Prize for resolving conflict with Eritrea
OSLO (Reuters) – Ethiopian Prime Minister Abiy Ahmed won the 2019 Nobel Peace Prize on Friday for his peacemaking efforts which ended two decades of hostility with longtime enemy Eritrea.
Though Africa's youngest leader still faces big challenges, he has in under two years in power begun political and economic reforms that promise a better life for many in impoverished Ethiopia and restored ties with Eritrea that had been frozen since a 1998-2000 border war.
"I am so humble and thrilled … It is a prize given to Africa, given to Ethiopia," Abiy Ahmed said in a recorded phone call with the secretary of the award committee that was posted online.
Abiy was meeting Sudanese Prime Minister Abdalla Hamdok when he was informed he had won the prize, Abiy's spokeswoman said.
The Nobel Committee said Abiy had won the prestigious prize for "efforts to achieve peace and international cooperation, and in particular for his decisive initiative to resolve the border conflict with neighbouring Eritrea."
It said the prize was meant to recognise "all the stakeholders working for peace and reconciliation in Ethiopia and in the East and Northeast African regions."
News of the award trickled slowly down to the streets of the Ethiopian capital, Addis Ababa. Bisrat Hadte, a 45-year-old businessman, said he was glad but the government still had much to do to improve daily life in the country of about 100 million.
"The prime minister also has to work on to improve the economy and drive down the cost of living," he told Reuters.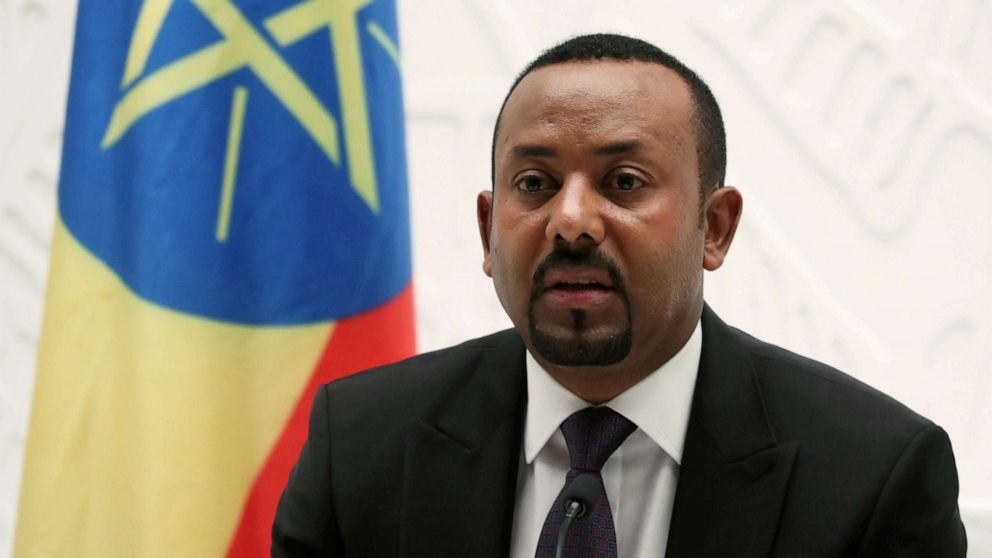 The Nobel Committee's decision appeared designed to encourage the peace process, echoing the 1994 peace prize shared by Israeli and Palestinian leaders and the 1993 award for moves towards reconciliation in South Africa, said Dan Smith, head of the Stockholm International Peace Research Institute.
"It is a case of wanting a constructive intervention in the peace process … to give leverage and encouragement," he told Reuters.
"The challenge now is internal for Abiy Ahmed, with Ethiopia needing to deal with the consequences of long-term violence, including three million displaced people and the need for continuing the political process."
Abiy had been bookmakers' second favourite to win, behind the teenage Swedish climate change campaigner Greta Thunberg.
"I have said often that winds of hope are blowing ever stronger across Africa. Prime Minister Abiy Ahmed is one of the main reasons why," said United Nations Secretary-General Antonio Guterres.
"His vision helped Ethiopia and Eritrea achieve a historic rapprochement."
CHALLENGES AHEAD FOR ABIY
Abiy, now 43, took office in April 2018 after the resignation of Hailemariam Desalegn following three years of violent anti-government protests. The ruling coalition had already begun making conciliatory measures, including releasing many political prisoners, but Abiy speeded up the reforms.
His government has promised to liberalise the bureaucratic, state-controlled economy, unbanned many political parties and dismissed or arrested many senior officials accused of corruption, torture or murder.
The changes are the most sweeping since the coalition took power in 1991, and the loosening of the state's iron grip has raised hopes in the country and abroad.
Abiy's landmark achievement to date is securing peace with neighbouring Eritrea. What remains to be seen is whether Abiy – who joined the Ethiopian army in his teens and rose through the ruling EPRDF coalition over the past two decades – can control the political forces he has unleashed.
He faces challenges from elements within the ruling coalition who feel disempowered and from new, ethnically-based parties eager to flex their muscles in next year's elections.
The loosening of political freedoms means many regional powerbrokers are demanding more influence and resources, fueling ethnically-tinged conflicts around the country.
In June, a rogue state militia leader killed the state president of the Amhara region and other top level officials in what the government described as a regional coup attempt.
Desalegn Chane, president of the new National Movement of Amhara (NAMA) party said three of his party's leaders were still in jail, held without charge and suspected of being linked to the violence.
"As an Ethiopian, actually, I am very happy that the prime minister won the Nobel peace prize," he told Reuters by phone.
"However, we still have legitimate concerns and grievances that Abiy needs to address. The political repression our people the Amhara have been suffering from has continued under Abiy."
Abiy also faces high expectations from young Ethiopians who want jobs, development, and opportunities.
The Nobel Peace Prize will be presented in Oslo on Dec. 10, the anniversary of the death of Swedish industrialist Alfred Nobel, who founded the awards in his 1895 will. It is worth nine million Swedish crowns, or around $900,000.
This year's award is the 100th Nobel Peace Prize award since 1901, when Henry Dunant, a founder of the Red Cross, and the French parliamentarian and peace activist Frederic Passy shared the first one. No awards were made on 19 occasions, including during the two world wars.