Nearly 2,000 arrested as Egypt braces for anti-Sisi protests
Authorities step up mass arrests, disrupt access to internet and tighten security amid calls for more rallies on Friday.
Egypt is bracing itself for a second weekend of protests on Friday, with authorities stepping up arrests and tightening security in major cities amid calls for a "million-man march" against President Abdel Fattah el-Sisi.
Egypt's Ministry of Interior warned on Thursday of "decisive" action against any attempts to "destabilise peace" as rights groups say nearly 2,000 people have been arrested since last weekend's rare protests demanding el-Sisi quit.
Among those arrested was Hassan Nafaa, a political science professor at Cairo University and well-known columnist, who called for the president's departure in a Twitter post.
"I have no doubt that the continuation of el-Sisi's absolute rule will lead to disaster," Nafaa said. "Egypt's interest requires his departure today before tomorrow."
Nafaa's arrest on Wednesday followed the detention of Hazem Hosny, a spokesman for former army chief Sami Anan who was jailed last year for attempting to run against el-Sisi in a presidential election.
Khaled Dawoud, the head of Al-Doustor Party who has been a vocal critic of the president's policies, was also arrested.
Security forces have also deployed more troops to major cities, with police stopping and searching pedestrians on key thoroughfares and squares. Authorities have also blocked news websites and disrupted access to messaging platforms, according to monitoring groups.
'Friday of Salvation'
Last weekend's unprecedented display of dissent is a response to calls for action from a former Egyptian military contractor, Mohamed Ali. The part-time actor, who said he worked with the military for 15 years, accused el-Sisi and his aides of squandering public funds on vanity projects despite widespread poverty.
In a series of videos posted online, he admitted to benefitting from government corruption, describing how his company, Amlak, was awarded lucrative state contracts without going through the proper bidding process.
Ali, who lives in self-imposed exile in Spain, said he regretted being part of the rampant corruption among the army corps and el-Sisi's relatives, including his wife Entissar Amer.
His description of opulent palaces and luxury hotels that he claimed to have built for el-Sisi – and for which he has yet to be paid – struck a nerve with many Egyptians living under harsh austerity measures imposed under a $12bn loan deal with the International Monetary Fund.
The programme has led to an increase in poverty rates. Official figures show one in three Egyptians live below the poverty line.
In a new video on Thursday night, Ali called on Egyptians to take to the streets following the noon prayers on Friday. He urged protesters not to clash with security forces and said they should march in side streets. Tahrir Square, the hub of the 2011 uprising that brought down longtime ruler Hosni Mubarak, should not be the main focus of Friday's protests, he added.
"All the squares in Egypt are Tahrir squares," he said.
El-Sisi, who is due back in Cairo on Friday following a trip to New York to attend the United Nations General Assembly (UNGA), has previously dismissed Ali's allegations as "lies and slander".
Since leading the military's overthrow of democratically-elected President Mohamed Morsi in 2013, el-Sisi has overseen a broad crackdown against any dissent.
While members of the Muslim Brotherhood – to which Morsi belonged – were the main target of a heavy-handed approach to political dissent, arrests extended well beyond the group. Civil rights activists, journalists, and actors have also been targeted.
When asked about the demonstrations on Monday, el-Sisi blamed them on "political Islam".
Nationwide crackdown
Meanwhile on Twitter, hashtags such as "come out you are not alone", "you are done Sisi", "Sisi must go", and "Next Friday", translated from Arabic, generated tens of thousands of tweets and retweets calling on people to take to the streets peacefully on Friday to demand el-Sisi step down.
Egyptian Hollywood actor Amr Waked posted in Arabic to his almost seven million followers on Thursday: "Sisi is done … it is over for him and anyone who supports him now will be making a huge mistake."
Addressing el-Sisi directly in the tweet, Waked added: "Get smart stupid. Leave and let the people take what belongs to them."
Analysts and politicians say the Egyptian government's crackdown reflects its insecurity and vulnerability at a critical time as Egypt's economic woes intensify for the poor and middle class.
"The government's mass arrests and internet restrictions seem intended to scare Egyptians away from protesting and to leave them in the dark about what's happening in the country," said Sarah Leah Whitson, Middle East and North Africa director at Human Rights Watch.
"The nationwide crackdown on protests suggests that President Abdel Fattah el-Sisi is terrified of Egyptians' criticisms."
Ayman Nour, an Egyptian opposition leader and former presidential candidate, said el-Sisi was also "trying to send a clear message to prominent generals and politicians who might provide an alternative to him."
Nour said he expects more people will take to the streets now that "the fear barrier" has been broken, saying the government's heavy-handed approach has only heightened people's anger at worsening socioeconomic conditions.
Putin steps up drive for clout in Africa with broadside against West
MOSCOW (Reuters) – President Vladimir Putin stepped up Russia's push for influence in Africa days before he hosts a summit with African leaders, saying on Monday that Moscow could offer help without strings attached unlike what he cast as the exploitative West.
The Kremlin has said it expects 47 African leaders to converge on the Black Sea city of Sochi for the Oct. 23-24 event, Moscow's first Russia-Africa summit and part of an ambitious push for influence and business in Africa.
For Moscow, the prize is greater political influence on a continent with 54 United Nations member states, sprawling mineral wealth, and potentially lucrative markets for Russian-manufactured weapons.
The world's largest wheat exporter, Russia is also looking to ramp up its supplies of grain and fertiliser to meet demand that is rising in step with Africa's booming population.
U.S. officials have vowed to counter what they see as Moscow's growing political and economic clout in Africa as well as that of China, which has long had a large economic presence there and began its own series of Africa summits in 2006.
In December, then U.S. national security adviser John Bolton accused Moscow of "corrupt" and "predatory" business practices and of selling arms and energy in exchange for votes at the United Nations. Moscow denies that.
On Monday, Putin gave the clearest idea yet of his pitch to African countries, warning of rising competition over Africa. Turning the tables on the West, he accused it of intimidating African countries to exploit the continent's resources.
"We see how an array of Western countries are resorting to pressure, intimidation and blackmail of sovereign African governments," Putin told the TASS news agency.
He did not name specific countries, but said he was referring to former colonial powers on the continent.
ARMS FAIR
"They are using such methods to try to return lost influence and dominance in their former colonies in a new guise and rushing to pump out maximum profits and to exploit the continent," he said.
By contrast, Putin said Russia was ready to offer help without "political or other conditions" and to embrace the principle of African solutions for African problems.
During its Cold War struggle with the capitalist West, Soviet Moscow developed close ties with many African countries, backing for instance post-colonial independence movements. Many of those ties lapsed after the 1991 Soviet breakup.
But Moscow's ties to Africa are now on the up, Putin said, pointing to military technical cooperation accords that Russia has with more than 30 African states which it supplies arms to.
Russia's new role in the region was thrust into the spotlight in July last year when three Russian journalists were killed in the Central African Republic while investigating the alleged presence there of a shady Russian private military contractor known as the Wagner group.
Putin will co-host the summit with Egyptian President Abdel Fattah el-Sisi.
Russia plans to put on an arms fair at the summit, showing Russian-made weapons including its S-400 missile defence system, other air defence systems as well as non-military equipment, according to the Almaz-Antey arms manufacturer.
In trade terms, though, Moscow lags far behind competitors. Russia says its trade with African countries rose to $20 billion last year, but Russia did not rank among the continent's top five largest trade in goods partners, according to Eurostat.
That list was topped by the European Union, followed by China, India, the United States and the United Arab Emirates.
Re-open Border With Benin Republic, Ghana Urges Nigerian Government
Ghana's Minister of Foreign Affairs and Regional Integration, Ms Shirley Botchwey, has urged the Nigerian Government to urgently review its decision to close its borders with Benin.
The minister said the border closure had severely affected Ghanaian traders, noting that it could lead to political tension in countries impacted by the decision.
Botchwey, who stated this during a meeting with the Minister of Foreign Affairs, Geoffrey Onyeama, in Abuja on Wednesday, was accompanied by her counterparts, Minister of Trade, Allan Kyerematen and the Acting High Commissioner to Nigeria, Mrs Iva Denoo.
She stated that truckloads of goods from Ghana had been detained at the Seme Border between Benin and Nigeria for weeks, adding that returning such to the seaports would be a major loss for Ghanaian traders.
She said, "The closure of the borders has had considerable disruptions to trade in the sub-region, with grave consequential economic effects on Ghanaian traders."
Reacting to the call, Onyeama said that the borders were closed to protect Nigeria's economy from smugglers, traffickers and illegal migrants.
Ethiopia's Abiy wins Nobel Peace Prize for resolving conflict with Eritrea
OSLO (Reuters) – Ethiopian Prime Minister Abiy Ahmed won the 2019 Nobel Peace Prize on Friday for his peacemaking efforts which ended two decades of hostility with longtime enemy Eritrea.
Though Africa's youngest leader still faces big challenges, he has in under two years in power begun political and economic reforms that promise a better life for many in impoverished Ethiopia and restored ties with Eritrea that had been frozen since a 1998-2000 border war.
"I am so humble and thrilled … It is a prize given to Africa, given to Ethiopia," Abiy Ahmed said in a recorded phone call with the secretary of the award committee that was posted online.
Abiy was meeting Sudanese Prime Minister Abdalla Hamdok when he was informed he had won the prize, Abiy's spokeswoman said.
The Nobel Committee said Abiy had won the prestigious prize for "efforts to achieve peace and international cooperation, and in particular for his decisive initiative to resolve the border conflict with neighbouring Eritrea."
It said the prize was meant to recognise "all the stakeholders working for peace and reconciliation in Ethiopia and in the East and Northeast African regions."
News of the award trickled slowly down to the streets of the Ethiopian capital, Addis Ababa. Bisrat Hadte, a 45-year-old businessman, said he was glad but the government still had much to do to improve daily life in the country of about 100 million.
"The prime minister also has to work on to improve the economy and drive down the cost of living," he told Reuters.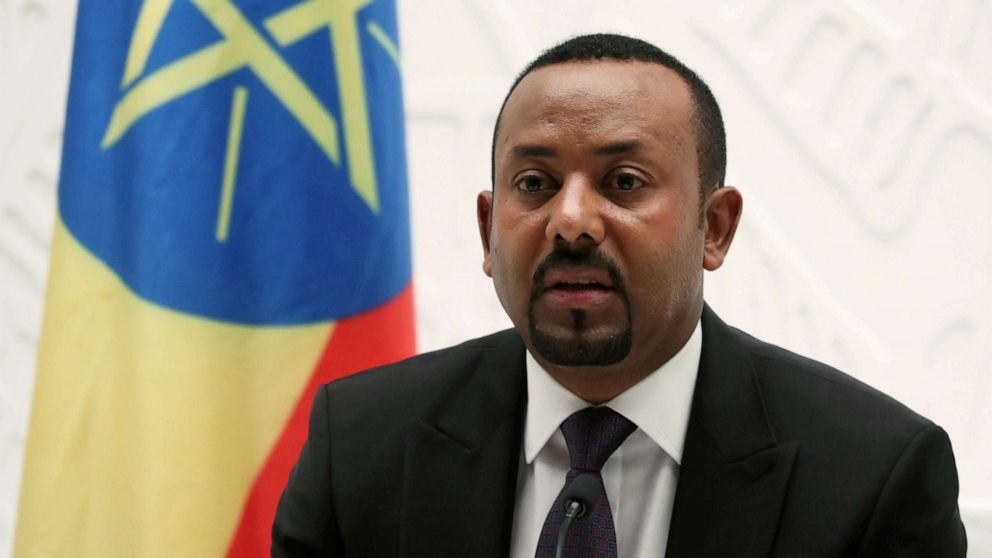 The Nobel Committee's decision appeared designed to encourage the peace process, echoing the 1994 peace prize shared by Israeli and Palestinian leaders and the 1993 award for moves towards reconciliation in South Africa, said Dan Smith, head of the Stockholm International Peace Research Institute.
"It is a case of wanting a constructive intervention in the peace process … to give leverage and encouragement," he told Reuters.
"The challenge now is internal for Abiy Ahmed, with Ethiopia needing to deal with the consequences of long-term violence, including three million displaced people and the need for continuing the political process."
Abiy had been bookmakers' second favourite to win, behind the teenage Swedish climate change campaigner Greta Thunberg.
"I have said often that winds of hope are blowing ever stronger across Africa. Prime Minister Abiy Ahmed is one of the main reasons why," said United Nations Secretary-General Antonio Guterres.
"His vision helped Ethiopia and Eritrea achieve a historic rapprochement."
CHALLENGES AHEAD FOR ABIY
Abiy, now 43, took office in April 2018 after the resignation of Hailemariam Desalegn following three years of violent anti-government protests. The ruling coalition had already begun making conciliatory measures, including releasing many political prisoners, but Abiy speeded up the reforms.
His government has promised to liberalise the bureaucratic, state-controlled economy, unbanned many political parties and dismissed or arrested many senior officials accused of corruption, torture or murder.
The changes are the most sweeping since the coalition took power in 1991, and the loosening of the state's iron grip has raised hopes in the country and abroad.
Abiy's landmark achievement to date is securing peace with neighbouring Eritrea. What remains to be seen is whether Abiy – who joined the Ethiopian army in his teens and rose through the ruling EPRDF coalition over the past two decades – can control the political forces he has unleashed.
He faces challenges from elements within the ruling coalition who feel disempowered and from new, ethnically-based parties eager to flex their muscles in next year's elections.
The loosening of political freedoms means many regional powerbrokers are demanding more influence and resources, fueling ethnically-tinged conflicts around the country.
In June, a rogue state militia leader killed the state president of the Amhara region and other top level officials in what the government described as a regional coup attempt.
Desalegn Chane, president of the new National Movement of Amhara (NAMA) party said three of his party's leaders were still in jail, held without charge and suspected of being linked to the violence.
"As an Ethiopian, actually, I am very happy that the prime minister won the Nobel peace prize," he told Reuters by phone.
"However, we still have legitimate concerns and grievances that Abiy needs to address. The political repression our people the Amhara have been suffering from has continued under Abiy."
Abiy also faces high expectations from young Ethiopians who want jobs, development, and opportunities.
The Nobel Peace Prize will be presented in Oslo on Dec. 10, the anniversary of the death of Swedish industrialist Alfred Nobel, who founded the awards in his 1895 will. It is worth nine million Swedish crowns, or around $900,000.
This year's award is the 100th Nobel Peace Prize award since 1901, when Henry Dunant, a founder of the Red Cross, and the French parliamentarian and peace activist Frederic Passy shared the first one. No awards were made on 19 occasions, including during the two world wars.