India pharma brothers arrested over '$330m fraud'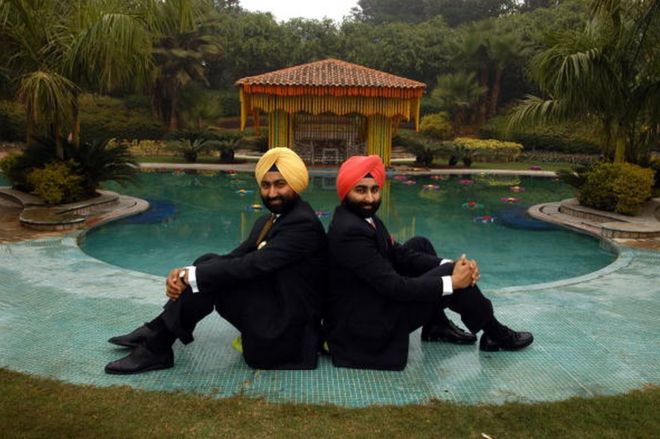 Police in India have arrested two businessmen brothers over alleged embezzlement of more than $330m (£265m) from a financial services company.
Shivinder Singh and Malvinder Singh, former promoters of the pharmaceutical giant Ranbaxy, were once counted among the richest businessmen in India.
The brothers also owned a popular hospital chain.
Three key executives belonging to the finance company have been also held in connection with the case.
The Singh brothers were arrested by the economic offences wing of the Delhi police on Thursday evening. They have been charged with cheating, criminal conspiracy and criminal breach of trust. They deny the charges.
The financial service firm, Religare Finvest, had filed a complaint alleging that the brothers had embezzled money it had loaned to companies related to them or their associates.
The police said the firm gave corporate loans to companies which were owned by the brothers and other executives. The money was then used to pay off existing liabilities of the companies.
The companies had defaulted in paying back their loans and left the Religare Finvest in "poor financial condition".
The Singh brothers and the three executives are expected to be produced in court on Friday.
The brothers inherited the multi-billion dollar Ranbaxy Laboratories founded by their father.
The pharmaceutical company was sold to Japanese firm Daiichi Sankyo in 2008, and the brothers continued to run a family-owned hospital chain called Fortis Healthcare.
Over the years they lost control of the hospital chain over allegations of fraud and problems of mounting debt.
Hong Kong descends into chaos again as protesters defy ban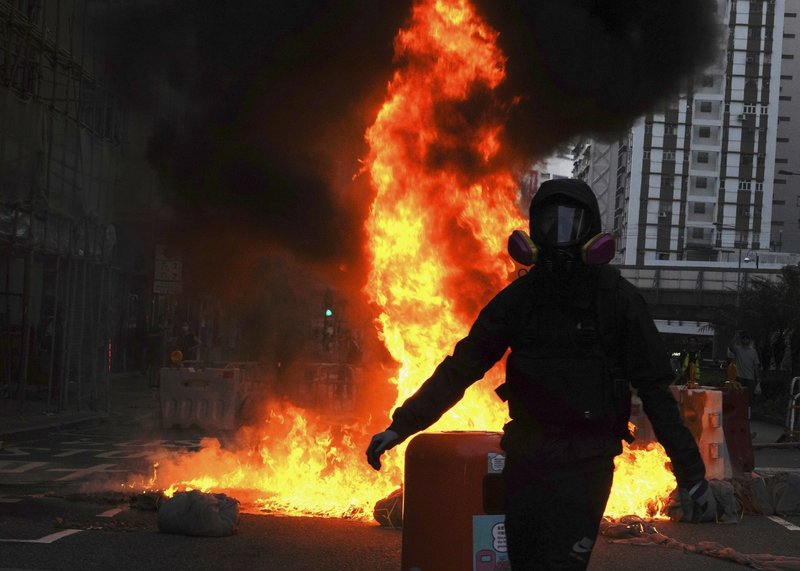 HONG KONG (AP) — Hong Kong streets descended into chaotic scenes following an unauthorized pro-democracy rally Sunday, as protesters set up roadblocks and torched businesses, and police responded with tear gas and a water cannon.
Protesters tossed firebombs and took their anger out on shops with mainland Chinese ties as they skirmished late into the evening with riot police, who unleashed numerous tear gas rounds on short notice, angering residents and passers-by.
Police had beefed up security measures ahead of the rally, for which they refused to give permission, the latest chapter in the unrest that has disrupted life in the financial hub since early June.
Some 24 people were hurt and treated at hospitals, including six with serious injuries, the Hospital Authority said.
Police did not give an arrest figure. One person was seen being handcuffed and taken away to a police van.
As the rally march set off, protest leaders carried a black banner that read, "Five main demands, not one less," as they pressed their calls for police accountability and political rights in the semi-autonomous Chinese territory.
Supporters sang the protest movement's anthem, waved colonial and U.S. flags, and held up placards depicting the Chinese flag as a Nazi swastika.
Many protesters wore masks in defiance of a recently introduced ban on face coverings at public gatherings, and volunteers handed more out to the crowd.
Matthew Lee, a university student, said he was determined to keep protesting even after more than four months.
"I can see some people want to give up, but I don't want to do this because Hong Kong is my home, we want to protect this place, protect Hong Kong," he said. "You can't give up because Hong Kong is your home."
Some front-line protesters barricaded streets at multiple locations in Kowloon, where the city's subway operator restricted passenger access.
They tore up stones from the sidewalk and scattered them on the road, commandeered plastic safety barriers and unscrewed metal railings to form makeshift roadblocks.
A water cannon truck and armored car led a column of dozens of police vans up and down Nathan Road, a major artery lined with shops, to spray a stinging blue-dyed liquid as police moved to clear the road of protesters and barricades.
At one point, the water cannon sprayed a handful of people standing outside a mosque. Local broadcaster RTHK reported that the people hit were guarding the mosque and few protesters were nearby. The Hong Kong police force said it was an "unintended impact" of its operation to disperse protesters and later sent a representative to meet the mosque's imam.
As night fell, protesters returned to the streets, setting trash on fire at intersections.
Residents jeered riot police, cursing at them and telling them to leave. The officers, in turn, warned people that they were part of an illegal assembly and told them to leave, and unleashed tear gas to disperse the crowds.
Along the way, protesters trashed discount grocery shops and a restaurant chain because of what they say is the pro-Beijing ownership of the companies. They also set fire to ATMs and branches of mainland Chinese banks, setting off sprinklers in at least two, as well as a shop selling products from Chinese smartphone maker Xiaomi.
The police used a bomb disposal robot to blow up a cardboard box with protruding wires that they suspected was a bomb.
Organizers said ahead of the march that they wanted to use their right to protest as guaranteed by Hong Kong's constitution despite the risk of arrest.
"We're using peaceful, rational, nonviolent ways to voice our demands," Figo Chan, vice convener of the Civil Human Rights Front, told reporters. "We're not afraid of being arrested. What I'm most scared of is everyone giving up on our principles."
The group has organized some of the movement's biggest protest marches. One of its leaders, Jimmy Sham, was attacked on Wednesday by assailants wielding hammers.
On Saturday, Hong Kong police arrested a 22-year-old man on suspicion of stabbing a teenage activist who was distributing leaflets near a wall plastered with pro-democracy messages. A witness told RTHK that the assailant shouted afterward that Hong Kong is "a part of China" and other pro-Beijing messages.
The protest movement sprang out of opposition to a government proposal for an extradition bill that would have sent suspects to mainland China to stand trial, and then ballooned into broader demands for full democracy and an inquiry into alleged police brutality.
Oil shipping rates soar as U.S. supertanker sanctions rattle crude trade
SINGAPORE (Reuters) – Key oil freight rates from the Middle East to Asia rocketed as much as 28% on Friday in a global oil shipping market spooked by United States sanctions on units of Chinese giant COSCO for alleged involvement in ferrying crude out of Iran.
In what the State Department called "one of the largest sanctions actions the U.S. has taken" since curbs were re-imposed on Iran in November last year, two units of COSCO were named alongside other companies in claims of involvement in sanctions-busting shipments of Iranian oil.
The surprise move, affecting one of the world's largest energy shippers, operating more than 50 supertankers, comes as U.S. President Donald Trump seeks to exert maximum pressure on Iran to drop nuclear programmes.
As some Asian oil buyers rushed to secure vessels, rates for chartering supertankers, or very large crude carriers (VLCCs), to load crude oil from the Middle East to north Asia in October surged nearly 19% overnight to about 75-76 points on Worldscale, an industry tool used to calculate freight charges, shipping and industry sources said.
That means an increase of about $600,000 per ship, a Singapore-based crude oil trader said.
The rates for loading Middle East crude to west coast India in the second week of October jumped 28% to 80-92.5 points after Reliance Industries Ltd booked two supertankers overnight, industry sources said.
But there was also uncertainty over how widely the sanctions on the COSCO units – COSCO Shipping Tanker (Dalian) Co, Ltd and its subsidiary COSCO Shipping Tanker (Dalian) Seaman & Ship Management Co, Ltd – will be implemented.
COSCO Shipping Tanker (Dalian) owns and manages at least 36 tankers for crude and refined products, including 18 VLCCs, according to shipping sources and Refinitiv data.
At least three ships linked to COSCO Shipping Tanker (Dalian) scheduled to load oil from the United States and Brazil were cancelled, oil and shipping sources said.
"There's confusion in the market for those who has fixed the COSCO's vessels. Everyone wants to avoid exposure to U.S. sanctions," a Singapore-based trader said.
Provisional bookings for VLCCs Cosmerry Lake and Yuan Qiu Hu to load U.S. oil in the second half of October were scrapped.
Cosmerry Lake, owned by Cosmerry Lake Maritime Inc and managed by COSCO Shipping Tanker (Dalian), is floating off the U.S. Gulf. Yuan Qiu Hu, owned and managed by COSCO Shipping Tanker (Dalian), is on its way to the U.S. Gulf.
A third COSCO-linked supertanker was chartered to load in Brazil, but it has been replaced by another vessel, a source with knowledge of the matter said.
When contacted by Reuters, an official at COSCO said the impact of the sanctions was being examined internally and declined to comment further.
REFINERS
Industry sources said some buyers were holding off while they check with legal teams to better understand the impact of the sanctions.
"The market is fearful of sanctions so refiners are taking some preventive measures. We'll have to see how widely implemented the sanctions will be," said KY Lin, spokesman for Taiwanese refiner Formosa Petrochemical, a major crude oil buyer in Asia.
Friday's jolt left shipping rates springing back to levels not seen since mid-September drone and missile strikes on key Saudi Arabian oil production facilities roiled global markets. The COSCO vessels are equal to about 7.5% of the world's fleet of supertankers, according to Refinitiv data.
"Charterers are in trouble," a North Asian shipbroker said, declining to be named citing company policy. "It was terrible news for every one of us with the Saudi drone attack, and now the market has to deal with U.S. sanctions on COSCO."
"Good news for owners, good time for them to earn money," the broker said.
While diplomatic tensions between the United States and Iran remain high, a British-flagged tanker that had been detained by Iran in the Strait of Hormuz on Friday left Bandar Abbas port heading for international waters.
On Thursday, Unipec, the trading arm of Asia's largest refiner Sinopec and India's largest refiner Indian Oil Corp, cancelled bookings of some COSCO ships and scrambled to find alternative ships to move their crude on.
"Rates have definitely been pushed higher by these sanctions," said an executive at a top shipbroker in Singapore, adding that ships carrying Middle East and U.S. crude to Asia were subject to the biggest impact. The broker declined to be identified, citing company policy.
Crude shipments from the United States to Asia have also been affected. Industry sources said provisional bookings for VLCCs Cosmerry Lake and Yuan Qiu Hu to load U.S. oil in the second half of October had been scrapped. Cosmerry Lake is owned by Cosmerry Lake Maritime Inc and managed by Cosco Shipping Tanker (Dalian), while Yuan Qiu Hu is owned and managed by Cosco Shipping Tanker (Dalian).
COSCO officials were tight-lipped on Friday.
"(The) company is assessing the situation and impact internally as soon as possible, but so far we don't have anything to update you," said Zhang Zheng, an investor relations official with COSCO Shipping Energy Transportation, parent of COSCO Shipping Tanker (Dalian) Co, Ltd.
Trading in shares of COSCO Shipping Energy Transportation was halted on Thursday after the news on the sanctions, and will remain halted on Friday.