2nd whistleblower adds to impeachment peril at White House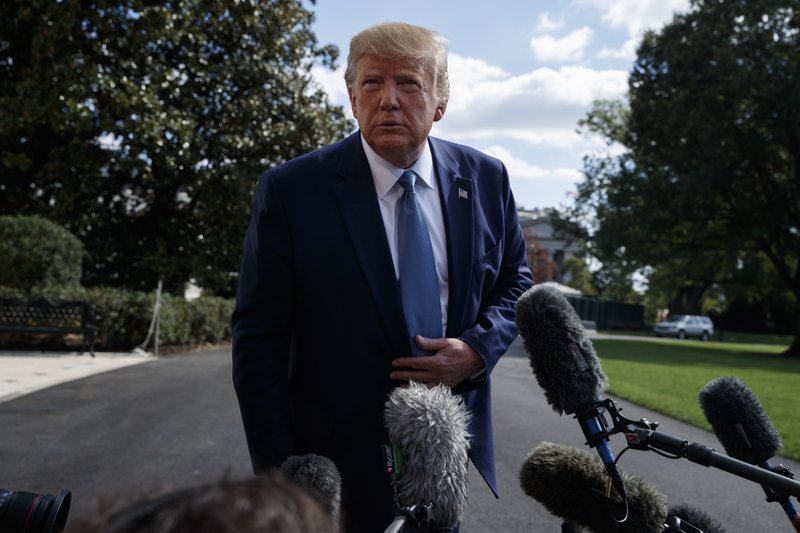 WASHINGTON (AP) — A second whistleblower has come forward with information about President Donald Trump's dealings with Ukraine, adding to the impeachment peril engulfing the White House and potentially providing new leads to Democrats in their unfurling investigation of Trump's conduct.
Attorney Mark Zaid, who represents both whistleblowers, said in a text message to The Associated Press that the second person has spoken to the intelligence community's internal watchdog and can corroborate information in the original whistleblower complaint. That document alleged that Trump pushed Ukraine's president to investigate Democratic presidential candidate Joe Biden's family, prompting a White House cover-up. Crucially, the new whistleblower works in the intelligence field and has "firsthand knowledge" of key events, Zaid said.
The emergence of the second whistleblower threatened to undermine arguments from Trump and his allies to discredit the original complaint. They have called it politically motivated, claimed it was filed improperly and dismissed it as unreliable because it was based on secondhand or thirdhand information.
A rough transcript of Trump's call with Ukrainian President Volodymyr Zelenskiy, released by the White House, has already corroborated the complaint's central claim that Trump sought to pressure Ukraine to investigate the Bidens. The push came even though there was no evidence of wrongdoing by the former vice president or his son Hunter, who served on the board of a Ukrainian gas company.
Text messages from State Department officials revealed other details, including that Ukraine was promised a visit with Trump if the government would agree to investigate the 2016 election and Ukrainian gas company Burisma — the outline of a potential quid pro quo.
Rep. Jim Himes, D-Conn., a member of the House Intelligence Committee, said word of a second whistleblower indicates a larger shift inside the government.
"The president's real problem is that his behavior has finally gotten to a place where people are saying, 'Enough,'" Himes said.
Democrats have zeroed in on the State Department in the opening phase of their impeachment investigation. The Intelligence, Oversight and Foreign Affairs committees have already interviewed Kurt Volker, a former special envoy to Ukraine who provided the text messages. At least two other witnesses are set for depositions this week: Gordon Sondland, the U.S. ambassador to the European Union, and Marie Yovanovitch, who was abruptly ousted as the U.S. ambassador to Ukraine in May.
Trump and his supporters deny that he did anything improper, but the White House has struggled to come up with a unified response. No administration officials appeared on the Sunday news shows to defend the president, while other Republicans focused mainly on attacking Democrats. A few Republicans suggested that Trump was only joking this past week when he publicly called on China to investigate the Bidens.
Republican Sen. Lindsey Graham of South Carolina, one of Trump's most vocal backers, provided perhaps the strongest defense of the president. He said there was nothing wrong with Trump's July conversation with Zelenskiy and that the accusation look like a "political setup."
As for Trump, rather than visiting his nearby golf course in Sterling, Virginia, for a second day, he stayed at White House, where he tweeted and retweeted, with the Bidens a main target.
"The great Scam is being revealed!" Trump wrote at one point, continuing to paint himself as the victim of a "deep state" and hostile Democrats.
As the president often does when he feels under attack, he trumpeted his strong support among Republican voters. He kept lashing out at Utah Sen. Mitt Romney, one of the few Republicans who has publicly questioned Trump's conduct.
"The Democrats are lucky that they don't have any Mitt Romney types," Trump wrote, painting the 2012 GOP presidential nominee as a traitor to his party. Romney tweeted recently that Trump's "brazen and unprecedented appeal to China and to Ukraine" for an investigation of Biden is "wrong and appalling."
The July call raised questions about whether Trump held back near $400 million in critical American military aid to Ukraine as leverage for a Burisma investigation. Hunter Biden served on the board of Burisma at the same time his father was leading the Obama administration's diplomatic dealings with Ukraine. Though the timing raised concerns among anti-corruption advocates, there has been no evidence of wrongdoing by either Biden.
A leading candidate for the 2020 Democratic presidential nomination, Biden wrote in The Washington Post that he had a message for Trump and "those who facilitate his abuses of power. … Please know that I'm not going anywhere. You won't destroy me, and you won't destroy my family."
Additional details about the origins of Trump's July 25 call with Zelenskiy emerged over the weekend.
Energy Secretary Rick Perry had encouraged Trump to speak with the Ukrainian leader, but on energy and economic issues, according to Perry spokeswoman Shaylyn Hynes. She said Perry's interest in Ukraine is part of U.S. efforts to boost Western energy ties to Eastern Europe.
Trump, who has repeatedly described his conversation with Zelenskiy as "perfect," told House Republicans on Friday night that it was Perry who teed up the July call, according to a person familiar with Trump's comments who was granted anonymity to discuss them. The person said Trump did not suggest that Perry had anything to do with the pressure to investigate the Bidens.
As the furor over Trump's phone call and the House's subsequent impeachment inquiry escalated, two Republicans challenging Trump for the GOP presidential nomination engaged in a heated on-air debate over what should happen to the president. The exchange between former Reps. Mark Sanford of South Carolina and Joe Walsh of Illinois was notable, given the refusal of all but three Republican senators to criticize Trump's conduct.
"This president needs to be impeached, just based on what he himself has said," Walsh said. "And Republicans better get behind that."
Walsh said the president deserves to be impeached. Sanford tried to make the case that moving forward with impeachment in the Democratic-run House if the Republican-controlled Senate doesn't have the votes to convict would be counter-productive.
Himes appeared on CBS' "Face the Nation" while Walsh was on CNN's "State of the Union." Graham spoke on Fox News Channel's "Sunday Morning Futures."
AP
Nigeria's Pace Of Economic Recovery Remains Slow Under Buhari -IMF
A slow economic recovery is continuing, inflation is falling, and external buffers are declining in the face of increased portfolio outflows in Nigeria, preliminary findings by the International Monetary Fund staff team show.
The IMF stated this in a press release made available to SaharaReporters on Tuesday night.
According to the end-of-mission statement, one of the teams' preliminary findings is that a slow economic recovery is continuing, inflation is falling, and external buffers are declining in the face of increased portfolio outflows.
Other findings noted that Elevated fiscal deficits rely on central bank financing, which complicates monetary policy; and that action on a coherent and coordinated set of policies is urgently needed to reduce vulnerabilities and increase growth over the medium term.
Between September 25 and October 7 this year, an IMF staff team led by Amine Mati, Senior Resident Representative and Mission Chief for Nigeria, visited Lagos and Abuja to discuss recent economic and financial developments, update macroeconomic projections, and review reform implementation.
At the end of the visit, Mati said: "The pace of economic recovery remains slow, as depressed private consumption and investors' wait-and-see attitude kept growth in the first half of the year at 2 percent, a rate significantly below population growth. Headline inflation has fallen, reaching its lowest level since January 2016, helped by lower food price inflation.
"Spurred by one-off increases in imports, the current account turned into a deficit in the first half of 2019 after three years of surpluses. Gross international reserves have fallen to below $42 billion at end-August 2019, mainly reflecting a decline in foreign holdings of short-term securities and equity. The exchange rate in various windows remained stable, helped by steady sales of foreign exchange by the Central Bank of Nigeria (CBN).
"Carryover from 2018 to 2019 helped increase public investment spending in the first half of 2019, but revenue underperformed significantly relative to the budget target in the first half of 2019. Over-optimistic revenue projections have led to higher financing needs than initially envisaged, resulting in overreliance on expensive borrowing from the CBN to finance the fiscal deficit. Federal Government interest payments continue to absorb more than half of revenues in 2019."
According to him, the outlook under current policies remains challenging, pointing out that growth is expected to pick up to 2.3 percent this year on the strength of a continuing recovery in the oil sector and the regaining of momentum in agriculture following a good harvest.
The IMF representative added, "Revenue initiatives planned under the 2020 budget—including a VAT reform that increases the rate, introduces a minimum registration threshold and exempts basic food products—will help partially offset declining oil revenues and the impact of higher minimum wages, thus keeping the overall consolidated fiscal deficit elevated. The current account's shift to a deficit is expected to persist while the pace of capital outflows continues to weigh on international reserves. Inflation will likely pick up in 2020 following rising minimum wages and a higher VAT rate, despite a tight monetary policy.
"A comprehensive package of measures—whose design and implementation will require close coordination within the economic team and the newly-appointed Economic Advisory Council—is urgently needed to reduce vulnerabilities and raise growth."
Mati also noted that the increasing CBN financing of the government reinforced the need for an ambitious revenue-based fiscal consolidation that should build on the initiatives laid out in the Strategic Revenue Growth Initiative.
He, therefore, urged the President Muhammadu Buhari regime to maintain a tight monetary policy through more conventional tools.
According to him, managing vulnerabilities arising from large amounts of maturing CBN bills, including those held by non-residents, requires stopping direct central bank interventions, the introduction of longer term government instruments to mop up excess liquidity and moving towards a uniform market-determined exchange rate.
However, he stated, "Banking sector prudential ratios are improving. However, new regulations to spur lending—which has recently increased—should be carefully assessed and may need to be revisited in view of the potential unintended consequences on banks' asset quality, maturity structure, prudential buffers, and the inflation target. Continued strengthening of banks' capital buffers would enhance banking sector resilience.
"Structural reforms, particularly on governance and corruption and in implementing the much-delayed power sector recovery plan, remain essential to boosting prospects for higher and more inclusive growth."
"The team held productive discussions with senior government and central bank officials. It also met with representatives of the banking system, the private sector, and international development partners. The team wishes to thank the authorities and all those it met for the productive discussions, excellent cooperation, and warm hospitality."
IMF, however, noted that the observations of the team would not be discussed by its board.
"The views expressed in this statement are those of the IMF staff and do not necessarily represent the views of the IMF's executive board. This mission will not result in a board discussion," it explained.
Impeachment probe reaches into White House with new subpoena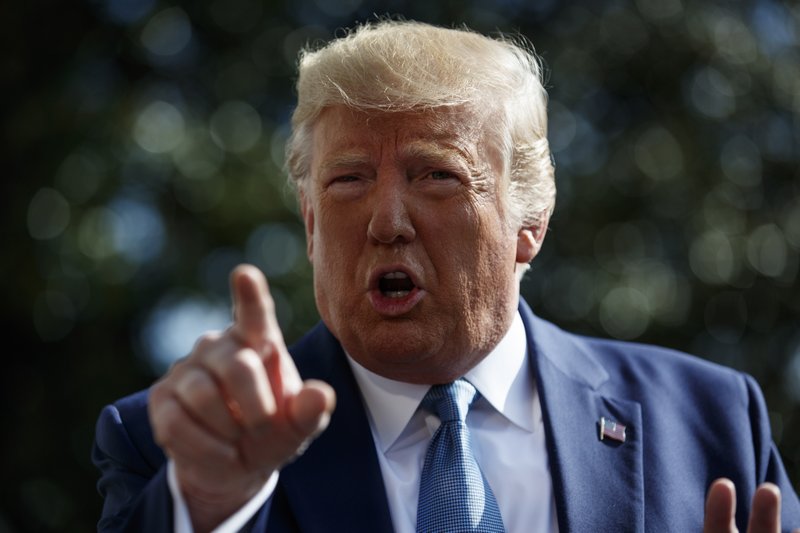 WASHINGTON (AP) — For the first time, the impeachment inquiry reached directly into the White House on Friday as Democrats subpoenaed officials about contacts with Ukraine and President Donald Trump signaled his administration would not cooperate.
The demand for documents capped a tumultuous week that widened the constitutional battle between the executive branch and Congress and sharpened the political standoff with more witnesses, testimony and documents to come.
Trump said he would formally object to Congress about the House impeachment inquiry, even as he acknowledged that Democrats "have the votes" to proceed. They'll be sorry in the end, he predicted.
"I really believe that they're going to pay a tremendous price at the polls," Trump said.
But Democrats accused Trump of speeding down "a path of defiance, obstruction and cover-up" and warned that defying the House subpoena would in itself be considered "evidence of obstruction" and a potentially an impeachable offense.
Lawmakers have made Trump's request last summer that Ukraine investigate former Vice President Joe Biden the centerpiece of the probe. A whistleblower complaint said that Trump sought to use military assistance for Ukraine as leverage to push President Volodymyr Zelenskiy to investigate the 2020 Democratic hopeful.
"We deeply regret that President Trump has put us — and the nation — in this position, but his actions have left us with no choice," wrote the three Democratic House chairmen, Reps. Elijah Cummings, Adam Schiff and Eliot Engel, in issuing Friday's subpoena after White House resistance to the panel's request for witnesses and documents.
Fighting the inquiry, the White House was expected to send a letter to House Speaker Nancy Pelosi arguing that Congress could not mount its impeachment investigation without first having a vote to authorize it. White House press secretary Stephanie Grisham derided the subpoena as coming from a Democratic "kangaroo court."
But Pelosi insisted the House is well within its rules to conduct oversight of the executive branch under the U.S. Constitution.
In the letter accompanying the subpoena, the three chairmen agreed, stating, "Speaker Pelosi has confirmed that an impeachment inquiry is underway, and it is not for the White House to say otherwise."
Trump's comments at the White House came shortly before Democrats sent a separate extensive request for documents to Vice President Mike Pence about his contacts with Ukraine.
Pence spokeswoman Katie Waldman dismissed the demand, saying that given its wide scope, "it does not appear to be a serious request."
The House has also subpoenaed Secretary of State Mike Pompeo.
When Pelosi recently announced that the House was initiating the inquiry, she didn't seek the consent of the full chamber, as was done for impeachment investigations into former Presidents Richard Nixon and Bill Clinton. But it is proceeding at a rapidly escalating pace.
Late Thursday, House investigators released a cache of text messages that showed top U.S. diplomats encouraging Ukraine's newly elected president to conduct an investigation linked to Biden's family in return for granting a high-profile visit with Trump in Washington.
The release followed a 10-hour interview with one of the diplomats, Kurt Volker, who stepped down as special envoy to Ukraine after the impeachment inquiry had begun.
On Friday, investigators in Congress heard again from Michael Atkinson, the intelligence community inspector general who brought forward the whistleblower complaint of Trump's call with the Ukraine president that sparked the impeachment inquiry.
Trump repeated on Friday that he had been pressing Ukraine to investigate corruption, not trying to undermine Biden, who could be his 2020 presidential election opponent. He made a related request of China, specifying Biden and his son, on Thursday.
As Republicans search for a response to the investigation, the absence of a procedural vote to begin the probe has been a main attack line against Democrats.
Pelosi swatted back the need for such a vote as unnecessary.
"The existing rules of the House provide House Committees with full authority to conduct investigations for all matters under their jurisdiction, including impeachment investigations," Pelosi wrote Thursday in a letter to House GOP Leader Kevin McCarthy after he, too, pressed for a floor vote.
Pelosi has sought to avoid a vote on the impeachment probe for the same reason she resisted, for months, liberal calls to try to remove the president: It would force moderate House Democrats to make a politically risky vote.
The White House, meanwhile, is trying to force the question on Democrats, as it seeks to raise the political cost for their impeachment investigation and to animate the president's supporters ahead of the 2020 election.
Two days after telling reporters, "Well, I always cooperate," Trump struck a different note on cooperating with the House probe. "I don't know," he said. "That's up to the lawyers."
There's no clear-cut procedure in the Constitution for initiating an impeachment inquiry, leaving many questions about possible presidential obstruction untested in court, said Allan Lichtman, a history professor at American University.
"There's no specification in the Constitution in what does and does not constitute a more formal impeachment inquiry or investigation," he said.
Rudy Giuliani, the president's personal attorney, dismissed the entire premise of the impeachment inquiry, which is centered on Trump asking Ukraine to investigate Biden.
"The president was not tasking Ukraine to investigate a political opponent," Giuliani told The Associated Press on Thursday. "He wanted an investigation into a seriously conflicted former vice president of the United States who damaged the reputation of the United States in Ukraine."
Democrats have sought to use their declared impeachment investigation to bolster their case to access all sorts of documents from the administration, most recently secret grand jury information that underpinned special counsel Robert Mueller's report on Russian interference in the 2016 election.
Where courts have generally required congressional oversight requests to demonstrate a legitimate legislative purpose, impeachment requests could be wide-ranging.
Democrats have already won some early court battles. It is unclear if Democrats would wade into a lengthy legal fight with the administration over documents and testimony — or if they would just move straight to considering votes on articles of impeachment.
AP
Oil shipping rates soar as U.S. supertanker sanctions rattle crude trade
SINGAPORE (Reuters) – Key oil freight rates from the Middle East to Asia rocketed as much as 28% on Friday in a global oil shipping market spooked by United States sanctions on units of Chinese giant COSCO for alleged involvement in ferrying crude out of Iran.
In what the State Department called "one of the largest sanctions actions the U.S. has taken" since curbs were re-imposed on Iran in November last year, two units of COSCO were named alongside other companies in claims of involvement in sanctions-busting shipments of Iranian oil.
The surprise move, affecting one of the world's largest energy shippers, operating more than 50 supertankers, comes as U.S. President Donald Trump seeks to exert maximum pressure on Iran to drop nuclear programmes.
As some Asian oil buyers rushed to secure vessels, rates for chartering supertankers, or very large crude carriers (VLCCs), to load crude oil from the Middle East to north Asia in October surged nearly 19% overnight to about 75-76 points on Worldscale, an industry tool used to calculate freight charges, shipping and industry sources said.
That means an increase of about $600,000 per ship, a Singapore-based crude oil trader said.
The rates for loading Middle East crude to west coast India in the second week of October jumped 28% to 80-92.5 points after Reliance Industries Ltd booked two supertankers overnight, industry sources said.
But there was also uncertainty over how widely the sanctions on the COSCO units – COSCO Shipping Tanker (Dalian) Co, Ltd and its subsidiary COSCO Shipping Tanker (Dalian) Seaman & Ship Management Co, Ltd – will be implemented.
COSCO Shipping Tanker (Dalian) owns and manages at least 36 tankers for crude and refined products, including 18 VLCCs, according to shipping sources and Refinitiv data.
At least three ships linked to COSCO Shipping Tanker (Dalian) scheduled to load oil from the United States and Brazil were cancelled, oil and shipping sources said.
"There's confusion in the market for those who has fixed the COSCO's vessels. Everyone wants to avoid exposure to U.S. sanctions," a Singapore-based trader said.
Provisional bookings for VLCCs Cosmerry Lake and Yuan Qiu Hu to load U.S. oil in the second half of October were scrapped.
Cosmerry Lake, owned by Cosmerry Lake Maritime Inc and managed by COSCO Shipping Tanker (Dalian), is floating off the U.S. Gulf. Yuan Qiu Hu, owned and managed by COSCO Shipping Tanker (Dalian), is on its way to the U.S. Gulf.
A third COSCO-linked supertanker was chartered to load in Brazil, but it has been replaced by another vessel, a source with knowledge of the matter said.
When contacted by Reuters, an official at COSCO said the impact of the sanctions was being examined internally and declined to comment further.
REFINERS
Industry sources said some buyers were holding off while they check with legal teams to better understand the impact of the sanctions.
"The market is fearful of sanctions so refiners are taking some preventive measures. We'll have to see how widely implemented the sanctions will be," said KY Lin, spokesman for Taiwanese refiner Formosa Petrochemical, a major crude oil buyer in Asia.
Friday's jolt left shipping rates springing back to levels not seen since mid-September drone and missile strikes on key Saudi Arabian oil production facilities roiled global markets. The COSCO vessels are equal to about 7.5% of the world's fleet of supertankers, according to Refinitiv data.
"Charterers are in trouble," a North Asian shipbroker said, declining to be named citing company policy. "It was terrible news for every one of us with the Saudi drone attack, and now the market has to deal with U.S. sanctions on COSCO."
"Good news for owners, good time for them to earn money," the broker said.
While diplomatic tensions between the United States and Iran remain high, a British-flagged tanker that had been detained by Iran in the Strait of Hormuz on Friday left Bandar Abbas port heading for international waters.
On Thursday, Unipec, the trading arm of Asia's largest refiner Sinopec and India's largest refiner Indian Oil Corp, cancelled bookings of some COSCO ships and scrambled to find alternative ships to move their crude on.
"Rates have definitely been pushed higher by these sanctions," said an executive at a top shipbroker in Singapore, adding that ships carrying Middle East and U.S. crude to Asia were subject to the biggest impact. The broker declined to be identified, citing company policy.
Crude shipments from the United States to Asia have also been affected. Industry sources said provisional bookings for VLCCs Cosmerry Lake and Yuan Qiu Hu to load U.S. oil in the second half of October had been scrapped. Cosmerry Lake is owned by Cosmerry Lake Maritime Inc and managed by Cosco Shipping Tanker (Dalian), while Yuan Qiu Hu is owned and managed by Cosco Shipping Tanker (Dalian).
COSCO officials were tight-lipped on Friday.
"(The) company is assessing the situation and impact internally as soon as possible, but so far we don't have anything to update you," said Zhang Zheng, an investor relations official with COSCO Shipping Energy Transportation, parent of COSCO Shipping Tanker (Dalian) Co, Ltd.
Trading in shares of COSCO Shipping Energy Transportation was halted on Thursday after the news on the sanctions, and will remain halted on Friday.