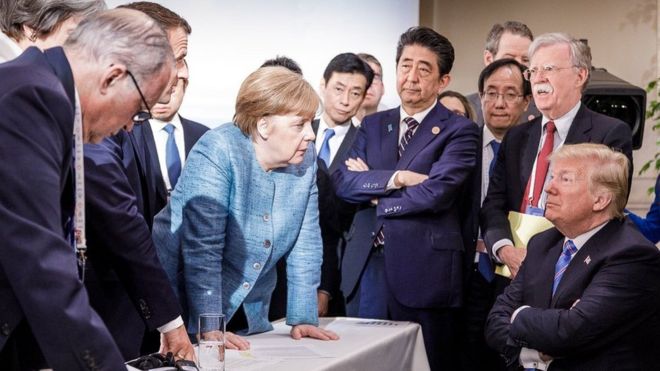 A war of words has erupted between the US and its G7 allies, hours after the group had put on a show of unity at the end of a tense summit.
US President Donald Trump and two of his advisers lashed out at Canadian PM Justin Trudeau, accusing him of engaging in "bad faith diplomacy".
Mr Trump retracted his endorsement of the G7's joint communique – drawing a strong rebuke from France and Germany.
That statement had sought to overcome deep disagreements, notably over trade.
In recent weeks, trading partners of the US have criticised new tariffs on steel and aluminium imports imposed by the Trump administration.
So how did the latest spat unfold?
In a news conference after the summit, the Canadian leader reasserted his opposition to the US tariffs, and vowed to press ahead with retaliatory moves on 1 July.
"Canadians are polite and reasonable but we will also not be pushed around," he said.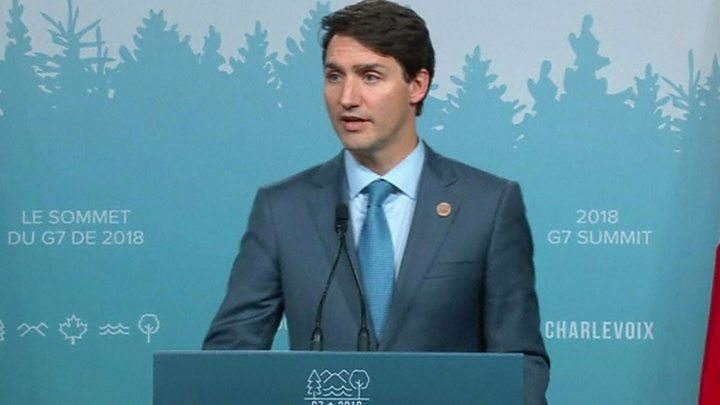 What is the G7?
It is an annual summit bringing together seven major industrialised nations which represent more than 60% of global net worth between them.
Economics tops the agenda, although the meetings now always branch off to cover major global issues.
Russia was suspended from the group – then called the G8 – in 2014 because of its annexation of Crimea from Ukraine.
On Friday, Mr Trump made a surprise call for Moscow to be readmitted but German Chancellor Angela Merkel said other members were against the idea.