2018: Nigeria's biggest budget yet 'meagre' compared to Angola, South Africa's
Amid commendations for its timely submission, experts have identified flaws in the 2018 Budget submitted to the National Assembly by President Muhammadu Buhari on Tuesday.
The senior economist, SPM Professionals, Paul Alaje, told PREMIUM TIMES on Wednesday that one of the areas the government did well was its spread of projects to all geo-political zones, saying more of this should be encouraged to give every section equal sense of belonging.
But, Mr. Alaje was not happy over the government's allocations to education and health sectors, describing them as disappointing.
"Allocation for education is far less than 10 per cent, which is below the minimum 26 per cent of the budget recommended by UNESCO. The Federal Government has not demonstrated leadership.
"The Minister of Health was encouraging commissioners of health in the 36 states of the federation to give minimum 15 per cent of their states' budget to health.
"Meanwhile, the federal budget allocated less than one per cent to health. It showed that the federal government does not practice what it preaches," Mr. Alaje said.
Besides, he faulted the government for setting its economic growth projections of 2.19 per cent in the Medium Term Expenditure Framework, MTEF and Nigeria Economic Growth Plan, NEGP, below the global average of 3.2 per cent in 2016 and 3.5 per cent in 2017.
For the Chief Executive, Global Analytics Limited, Tope Fasua, making reference to "Budget of Consolidation," was not correct, rather it should be called "Budget of mediocrity", when compared to the budget of some African countries.
"Nigeria economy is supposed to be the biggest in Africa. But, we are the lowest, both in per capita budget figures and in absolute terms. Nigeria is in the middle among South Africa, Algeria, Egypt and Angola.
"This year, South Africa is budgeting about $116 billion, against Nigeria's $23 billion, despite being the highest appropriation ever. Angola is doing $124 billion; Algeria $53 billion and Egypt $40 billion.
"What it shows is that successive Nigerian governments have not been dreaming. Not enough revenue is being generated, yet we are one of the most profligate countries in the world. We should be budgeting about N30 trillion," Mr. Fasua said.
"With 2018, pre-election year, a lot of monies would be required by politicians for campaigns and other activities. This might either bring a supplementary budget to drive growth, or an increment in the debt profile beyond the N2trillion presented in the budget," he noted.
In his view, the Chief Executive of Pan African Development Corporation, Odilim Enwegbara, described the revenue targets set by government as unrealistic, particularly from the Nigerian Customs, in view of several import duty waivers granted by government, declining importation of finished consumer goods and porous borders causing snuggling.
Mr. Enwegbara, who criticised the country's current 6 per cent tax rate, against minimum average rate of between 15 and 20 per cent for VAT among peer economies, said the government should urgently consider increasing its tax rate, to grow the economy and make local producers more competitive.
"The government should urgently find ways to drastically reduce the recurrent portion of the budget, which has continued to grow at geometric progression, against capital expenditure growing at arithmetic progression."
One of the ways to reverse the trend, he pointed out, was to raise the country's tax-to-budget ratio, which he said was the lowest among peer economies in Africa.
He expressed satisfaction with the government's new debt management strategy, to increase external borrowing and reduce domestic debt and force down interest rates, especially with alternative financing to small and medium enterprises, SMEs by the Central Bank of Nigeria, CBN.
For the Lead director, Centre for Social Justice, CENSOJ, Eze Onyekpere, President Muhammadu Buhari's early presentation of the budget to the National Assembly in accordance with section 81 of the Constitution of the Federal Republic of Nigeria 1999, as amended, was a welcome development.
Mr. Onyekpere criticised the entire budget outlay, arguing that although the total N8.612 trillion "appears high in Naira terms," it actually amounted to a "paltry $28.24 billion."
He said when the figure was divided by the country's population of 180 million people, the budget would translate to per capita federal expenditure of N47,844.44 only.
Besides, he said plans to improve further the Ease of Doing Business; tax administration; productivity of agriculture and reduction of the food import bill, as well as sustenance of the Social Investment Programme, were commendable.
He frowned at the poor implementation of the capital budget for 2017, with only N450 billion, or 20.70 per cent of the total capital vote of N2.174 trillion released to ministries, departments and agencies before the end of the financial year.
The recurring deficit and dependence on sovereign debts to finance key infrastructure and budgetary provisions, Mr. Onyekpere said was as a result of government's refusal to activate key domestic resource mobilisation mechanisms to harness the people's resources and energy for development.
On revenue, he said expected revenue from oil would pose a major challenge for the revenue framework, with projected oil production capacity of 2.3 million barrels per day, MBPD considered unrealistic, in view of recent figures of 1.9mbpd figure the 2017 half year.
He noted that about N512 billion provided as expected recoveries in the second quarter of 2017, as well as proceeds from restructuring government's equity in joint ventures and other sundry incomes, should only be appropriated "after they were actually realised."
Culled from 
premiumtimes
Hundreds of thousands affected as British travel firm fails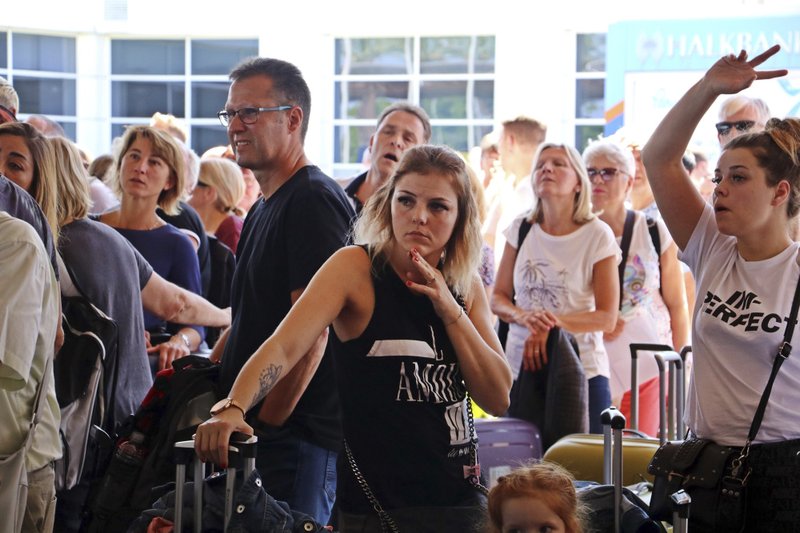 LONDON (AP) — Families stranded, honeymoons and vacations canceled, thousands of workers laid off: The sudden collapse of British tour company Thomas Cook and its network of airlines and hotels sowed chaos for hundreds of thousands of travelers and businesses around the world Monday.
Brought down by a variety of factors, including crushing debts and online competition, the 178-year-old travel agency that helped pioneer the package tour ceased operating in the middle of the night. Its four airlines stopped carrying customers, and its 21,000 employees in 16 countries lost their jobs.
The company's failure rippled across the tourism industry, particularly around the Mediterranean, with travelers uncertain how they would get home, hotels worried they wouldn't get paid, guests afraid they wouldn't be allowed to check out without settling their bills, and resorts hit with cancellations.
Overall, about 600,000 people were traveling with Thomas Cook as of Sunday, though it was unclear how many would be left stranded, as some regional subsidiaries were in talks with local authorities to continue operating.
The British government swung into action, lining up flights to bring an estimated 150,000 Britain-based customers back home from vacation spots around the globe in what was called the biggest peacetime repatriation effort in the country's history.
Some 50,000 Thomas Cook travelers were reported stranded in Greece, up to 30,000 in Spain's Canary Islands, 21,000 in Turkey and 15,000 in Cyprus. Travelers lined up at airports, looking for other ways to get home.
James Egerton-Stanbridge and his wife, Kim, were set to fly from London's Gatwick Airport to Egypt to celebrate her 60th birthday when flights were grounded.
"Kim was crying this morning. We're devastated," he said.
Long lines of British tourists snaked through the terminal in the Mexican resort of Cancun as travelers waited to find out when they could return home, and some discovered they would be taken to cities hours from their homes.
Katie Cowdrey, her husband and 6-year-old son had been scheduled to end their two-week vacation Monday anyway, but instead of flying home to London, they were told a plane would take them to Manchester.
"There's chaos as you can see. No one knows what's going on," Cowdrey said. "We only found out from the news. We weren't told any other way. The hotel didn't know what was going on."
Others took the news in stride. Sweden's Bengt Olsson, who was traveling in Cyprus, said there were worse places to be stranded: "It's nice to stay here. It's warm."
The reality was far harsher for the Thomas Cook employees who lost their jobs overnight.
"The staff have been stabbed in the back without a second's thought," said Brian Strutton, head of the British Airline Pilots' Association.
An estimated 1 million customers also found their bookings for upcoming trips canceled. Many of them are likely to receive refunds under travel insurance plans but had no idea when they would get their money back. Thomas Cook said it served 22 million customers a year.
The company, which began in 1841 with one-day train excursions in England, grew to have travel operations around the world but has been struggling for years because of competition from budget airlines and low-cost online booking sites.
In contrast to internet sites, Thomas Cook had high fixed costs: It operated a fleet of 105 jets and owned about 550 travel agencies on major streets across Britain as well as 200 hotels in sun-drenched countries.
"The growing popularity of the pick-and-mix type of travel that allows consumers to book their holiday packages separately, as well as new kids on the block like Airbnb, has seen the travel industry change beyond all recognition in the past decade, as consumers book travel, accommodation, and car hire independently," said Michael Hewson, chief market analyst at CMC Markets.
Business was also hurt in recent years by terror attacks in the Middle East and heat waves in Northern Europe that led people to stay home.
Things got worse this year, with the company blaming a slowdown in bookings on uncertainty over Britain's impending departure from the European Union. A drop in the pound also made it more expensive for Britons to travel abroad.
While many of these factors also affected rival companies, Thomas Cook was also burdened by $2 billion in debt. It was seeking 200 million pounds ($250 million) to avoid going bust and held talks over the weekend with shareholders and creditors.
CEO Peter Fankhauser stood outside the company's offices before dawn and announced that the effort to stave off collapse had failed.
"I know that this outcome will be devastating to many people and will cause a lot of anxiety, stress and disruption," he said.
British authorities chartered dozens of aircraft to fly customers home free of charge over the next two weeks, but warned of delays and urged patience.
British Prime Minister Boris Johnson, who was traveling to New York for a meeting at the United Nations, said the government was right not to bail out the company, arguing that doing so could have led other businesses to expect the same treatment.
Most of Thomas Cook's customers from Britain are protected by the government-run travel insurance program, which makes sure vacationers can get home if a British-based tour operator fails while they are abroad.
In Germany, the government was considering a request for a bridge loan from Thomas Cook's unit there, the airline Condor. The subsidiary was still flying but stopped carrying Thomas Cook customers.
Thomas Cook's collapse is also a blow to the many companies in resort areas that have long relied on it for business, including some 3,150 hotels.
In Spain's Canary Islands, a favored year-round destination for Europeans, the association of hotels said it feared an economic hit. The Spanish government held meetings with regional authorities to assess the damage.
In Tunisia, the TAP news agency said the tourism minister intervened after reports that some Thomas Cook tourists in Hammamet were locked into a hotel and "being held hostage" as hotel staff demanded they pay extra. The government said the situation was resolved and the guests would not be prevented from leaving the country.
UK judge to allow Nigeria to appeal ruling on $9 billion P&ID case
LONDON/LAGOS (Reuters) – A British judge on Thursday gave Nigeria permission to seek to overturn a ruling that would have allowed a private firm to try to seize more than $9 billion in assets from the West African country.
Process & Industrial Developments, a firm set up to carry out a gas project with Nigeria, won a $6.6 billion arbitration award after the deal collapsed. The award has been accruing interest since 2013 and is now worth more than $9 billion.
P&ID, established by two Irish nationals with little experience in the oil and gas sector, said on Thursday that interest was accruing at rate of $1.2 million a day.
The judge also granted Nigeria's request for a stay on any asset seizures while its legal challenge is pending, but ordered it to pay $200 million to the court within 60 days to ensure the stay. It also must pay some court costs to P&ID within 14 days.
The original decision on Aug. 16 converted an arbitration award held by P&ID to a legal judgment, which would allow the British Virgin Islands-based firm to try to seize international assets.
Nigeria's appeal of this decision, called a "set-aside", would need to prove there was an error in that ruling.
During Thursday's proceedings, lawyers representing Nigeria said the judgment was flawed primarily due to its acceptance that England was the proper seat of the arbitration.
Harry Mantovu argued on behalf of Nigeria that the courts, not the arbitration tribunal, should determine this, and that the award itself was "manifestly excessive".
"We look forward to challenging the UK Commercial Court's recognition of the tribunal's decision in the UK Court of Appeal, uncovering P&ID's outrageous approach for what it is: a sham based on fraudulent and criminal activity developed to profit from a developing country," Nigerian attorney general Abubakar Malami said.
P&ID welcomed the requirement that Nigeria place $200 million on hold pending the appeal, which it said will force the nation "to put its money where its mouth is if it wants to avoid immediate seizure of assets".
It also called fraud allegations a "red herring".
"The Nigerian government knows there was no fraud and the allegations are merely political theater designed to deflect attention from its own shortcomings," it said in a statement.
The judge's order said that if Nigeria does not put the $200 million into a court account within 60 days – the minimum amount of time that Mantovu said it would take Nigeria raise the funds by tapping capital markets or seeking internal sources – the stay on seizures would be lifted.
The case has electrified Nigeria and drawn condemnation at every level of government. In a speech at the United Nations this week, President Muhammadu Buhari said he would fight "the P&ID scam attempting to cheat Nigeria of billions of dollars".
At the court on Thursday, a dozen senior government officials huddled during a break, discussing how much money Nigeria could place in court accounts to secure a hold on asset seizures.
Last week, Nigeria's anti-graft agency charged one former petroleum ministry official with accepting bribes and failing to follow protocol related to the contract, while two Nigerian men linked to P&ID pleaded guilty to charges of fraud and tax evasion on behalf of the company.
P&ID has called the investigation in Nigeria a "sham" that denied its subjects due process.
UK travel giant Thomas Cook faces collapse
Thomas Cook's 178-year existence was hanging by a thread on Sunday after the iconic British travel firm struggled to find further private investment and is now relying on an unlikely government bailout.
The operator said Friday that it needed £200 million ($250 million) — in addition to the £900-million rescue deal secured last month — or else face administration, which could leave thousands of holidaymakers stranded and require Britain's largest repatriation since World War II.
A source close to the negotiations told AFP on Saturday that the company had failed to find the £200 million from private investors and would collapse unless the government intervened.
But ministers are unlikely to step in due to worries about the pioneering operator's longer-term viability, the Times reported on Saturday, leaving it on the brink of collapse and stranding up to 150,000 British holidaymakers abroad.
"We will know by tomorrow (Sunday) if agreement is reached," the source told AFP.
Conservative Party minister Brandon Lewis told Sky News on Sunday that it would be "inappropritate" for him to comment on the negotiations, but said that he hoped "they come to a positive conclusion".
The firm's shareholders and creditors were to meet from 9 am (0800 GMT) on Sunday, with a meeting of the board of directors due to be held in the afternoon.
The Transport Salaried Staffs Association, which represents workers at the company, called on the government to rescue the firm.
"It is incumbent upon the government to act if required and save this iconic cornerstone of the British high street and the thousands of jobs that go with it," said TSSA General Secretary, Manuel Cortes.
"The company must be rescued no matter what."
Two years ago, the collapse of Monarch Airlines prompted the British government to take emergency action to return 110,000 stranded passengers, costing taxpayers some £60 million on hiring planes.
The government at the time described it as Britain's "biggest-ever peacetime repatriation".
– Jobs threatened –
Thousands of workers could also lose their jobs, with the company employing about 22,000 staff worldwide, including 9,000 in Britain.
Chinese peer Fosun, which was already the biggest shareholder in Thomas Cook, agreed last month to inject £450 million into the business.
In return, the Hong Kong-listed conglomerate acquired a 75 percent stake in Thomas Cook's tour operating division and 25 percent of its airline unit.
Thomas Cook in May revealed that first-half losses widened on a major write-down, caused in part by Brexit uncertainty that delayed summer holiday bookings. The group, which has around 600 stores across the UK, has also come under pressure from fierce online competition.
Cabinet maker Thomas Cook created the travel firm in 1841 to carry temperance supporters by train between British cities.
It soon began arranging foreign trips, being the first operator to take British travellers on escorted visits to Europe in 1855, to the United States in 1866 and on a round-the-world trips in 1872.
The company was also a pioneer in introducing "circular note" — products that would later become traveller's cheques.