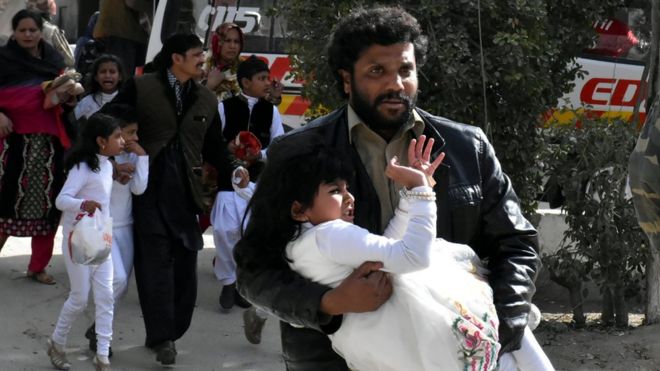 A suicide bomb and gun attack on a Methodist church in Pakistan has killed at least five people, reports say.
The attack happened in the city of Quetta, some 65km (40 miles) from the border with Afghanistan.
More than a dozen people were also wounded after gunmen wearing explosive vests tried to enter the building.
The two attackers were intercepted at the entrance, the region's home minister, Sarfaraz Bugti, said on Twitter.
Had the men not been stopped there could have been hundreds of casualties, he added.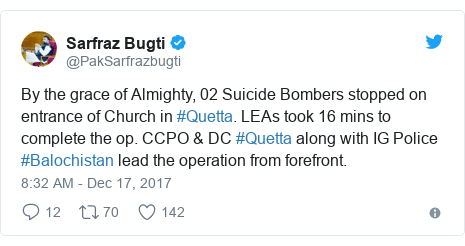 One of the men detonated his bomb vest and the other was stopped in a gunfight with police.
Security forces are conducting a search operation and have surrounded the site of the attack, in the city's high-security zone, local Urdu-language TV channels report.
A spokesman for the foreign affairs ministry, Dr Mohammed Faisal, condemned the attack.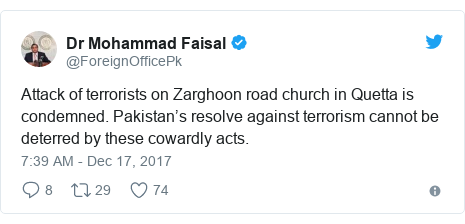 Attacks in the mainly Sunni Muslim region are not uncommon, often targeting the Hazara Shia Muslim community in suicide bombings.
But Pakistan's Christian minority has also frequently been the subject of militant attacks, and guards had been placed near the church in Quetta as a result.
The Balochistan province is home to unrest from several groups with religious or separatist groups, some of which cross the border from nearby Afghanistan.