Former US President Barack Obama has turned up for jury duty at a Chicago courthouse, but was dismissed by the judge without being called on to serve.
Crowds thronged the Daley Center municipal building to catch a glimpse of the 44th US president, who has a home in the Illinois city.
Mr Obama left his home at 09:30 local time (14:30 GMT) on Wednesday and left at around midday.
Each potential juror receives a $17.20 (£13.11) cheque from the county.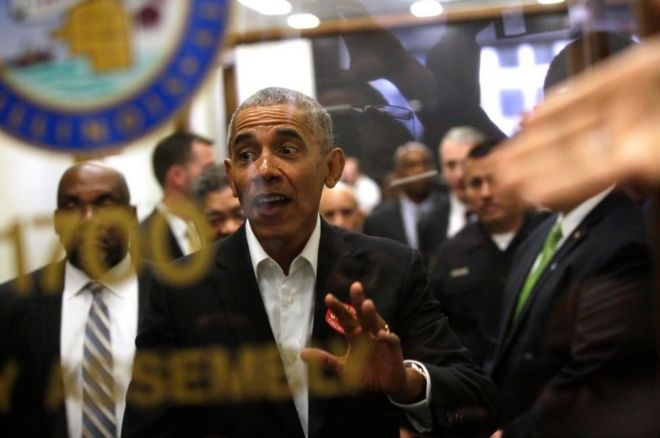 News helicopters filmed from above as Mr Obama's Secret Service motorcade moved from his home in the Kenwood neighbourhood to an indoor car park downtown.
Wearing a jacket but no tie, Mr Obama took a lift to the 17th floor, where he was met by other jurors as well as journalists, court staffers and lawyers.
After watching an "introduction to jury duty" video, Cook County Chief Judge Timothy Evans dismissed Mr Obama.
Later in the day, Mr Obama delivered a paid speech to investment firm GCM Grosvenor, the Chicago Sun-Times reports.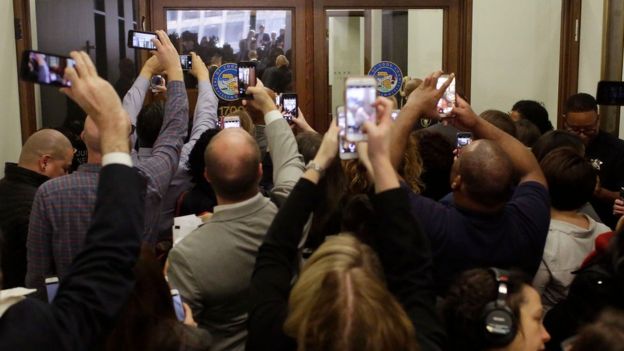 Katie Hill, communications director for Mr Obama, said in a statement that the former Democratic president "believes the most important office in our democracy is that of citizen, and he considers jury duty a core obligation of citizenship".
Mr Obama had previously been summoned in 2010, during his first four-year term as US president, but he managed to get a postponement from the court.
His excuse at the time was that he had a previously scheduled meeting with the president of the Kurdistan region of Iraq.
In 2015 former President George W Bush was called to jury duty in Dallas, Texas.
After posing for photos with other jurors, he was also dismissed.
In 2013, Bill Clinton was also dismissed from serving on a New York City jury hearing a gang shooting case.